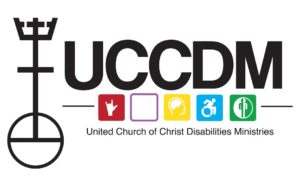 The text below was written by David Denham and covers the early years of UCCDM history. Other histories are also available and we hope to add these accounts of DM history to the website in due time.
The UCCDM Journey

Presented by David Denham, UCC DM Consultant at the UCC DM Annual Board Meeting on Thursday, March 16, 2006
Stage 1: Pioneering (1977-1989)
In Harold Wilke and Virginia Kreyer, our denomination has the unique blessing of two "saints" in disabilities ministries. Harold Wilke, born without arms to parents who encouraged his independence, became a pastor in the Evangelical and Reformed Church. In the early stages of our denomination, he served on the Office for Church Life and Leadership (now Parish Life and Leadership). In 1990, Harold was at his side whenthe first President Bush signed the Americans With Disabilities Act. Harold spoke throughout the world around issues of disability. He created a network called "Caring Congregations" (The Healing Community). A leader and pioneer in access, Harold Wilke died on February 26, 2003. His wife Peg still lives at Pilgrim Place in Claremont, CA.
Virginia Kreyer, now retired and living in Williamsburg, VA, set this ministry rolling in 1977. Virginia was an ordained American Baptist Minister. Receiving no recognition there for her ministry, she joined a United Church of Christ. When this minister, who has cerebral palsy, came before the Committee on Ministry, they encouraged her to start a committee in the New York metropolitan area around disability issues. She did.
This committee, becoming a movement within that Association, developed a resolution. Virginia loved telling about it in Virginia's Story. When the resolution was brought before the Metropolitan Association assembly, a missionary from Japan said, "I've been around, all over these United States and have not seen a person with a disability," meaning, therefore there is no sense in passing such a resolution. Whereupon, Virginia walked to the podium.
In 1977, the resolution passed. With it, Disabilities Ministries began. In 1978, Harold Wilke as chair called to order the first meeting of the Advisory Committee on the Church and the Handicapped. He and Virginia worked together in this ministry's formation.
In 1979, the name became UCC National Committee on Persons with Handicaps and in 1981, UCC National Committee on Persons with Disabilities/Handicaps. Later, it was named the UCC National Committee on Persons with Disabilities and in 1999, United Church of Christ Disabilities Ministries.
In the 1980s, the committee developed a number of written materials. Three strong documents still available include Daniel Caplan's architectural access guide to churches, "An Usher's Guide," and "Everyone's Welcome."
Stage 2: Coming of Age (1990-2005)
During the 90s, "That All May Worship and Serve" was edited by Gay McCormick then Dee Brauninger. The newsletter was sent first to a meager mailing list, then as an UCNews insert. "Letters to My Sisters and my article about Harold Wilke for New Conversations received publication. We started with little opportunity for the written word. Now that has taken off in both church and society. Another helpful piece is AHistory of Disability Advocacy in the United Church of Christ. In 1997, when Church House was being built, our UCC DM carried an active planning role in designing bothAmistad Chapel and a court yard accessible for service animals.
In 2001, we developed the Harold Wilke Fund and the pioneering, Virginia Kreyer Award. Virginia was the first, and, as of today, the sole recipient. The Harold Wilke Fund will perpetuate Harold's work. As we started this fund, we learned that another Harold Wilke Fund seeds potential resources. When we think about the 50th anniversary of our United Church of Christ in 2007, we can think about lifting up the 30/15 year anniversary of UCC DM/MIN as well.
The 1990 Americans with Disabilities Act began to shape both the society and our church. Church-state separation prohibits church mandate by the ADA. It therefore became the church's role to take on the spiritual voice that would culminate in our 1995 UCC ADA resolution, which calls the church at all levels to be morally bound by the spirit of the ADA. Also in 1995, General Synod added to the United Church of Christ vision statement the key words, "Accessible to All." Our national consciousness then as a church did not promote our having the words to put UCC DM on the national map. We have continued to remember Accessible to All so that today we hear, "Multiracial, Multicultural, Open and Affirming, and Accessible to All."
My journey with this group began in the early 1990s. I would become chairperson by 1995, as Virginia was retiring after seventeen years as consultant. Remarkably then also, the network of this committee had dwindled. Bob Dell and I essentially led Disabilities Ministries and the Mental Illness Network, which had begun in 1992. Bob served on the national committee during that time. What a joy to celebrate if everybody had been here today.
We left General Synod in 1995 challenged to build a basic network for the ministry to go forward. "Beezy" Bentzen as chair person would become an early visionary of this new constellation. Located in the Board for Homeland Ministries (UCBHM), we were part of its Health Ministries division, the American Missionary Association. This association with an historical connection with Amistad started many American-rooted African-American colleges and congregations. This was a fertile theological and spiritual environment for my learning about the heart of justice in the United Church of Christ.
A conversation began about where our ministry would be housed under the new United Church of Christ structure that would begin in 2002. A health ministry promulgates the continuance of a medical model of disability and the idea that one can be fixed. Valerie Russell, noted for leadership around racism and sexism, wanted to approach our ministry spiritually and theologically. Shortly before her death, she was ready to take on this issue.
Our driving force was to choose well our placement. UCC DM, so-named in 1999, began to develop the community empowerment approach to a ministry of persons with disabilities. This became our guiding light. What we did not understand then was how this would put us at an edge with the Mental Illness Network, which asserts that mental illnesses are indeed serious brain disorders. For the MlN ministry to be lodged in Health Ministries was an important seal to its ministry. Having not discussed that enough in the initial stages, we would come to a conversational boiling point. As we moved along on the empowerment model, we also were building to a dialogue crisis with the MIN. In 1999, General Synod passed two resolutions, the mental illness resolution and clergy in ministry.
We entered church restructure thinking that after numerous efforts we would be in Local Church Ministries. The plan unfolded, Wider Church Ministries. Hoping to avoid an affront to WCM, Jeanne Tyler, co-chair, and I engaged in conversations with Dale Bishop (WCM) and Joe Malayang (LCM). UCC DM had processed this hope as a group. We had talked about how Henri Nouwen's vulnerability piece leads to resurrected living and how individuals with disabilities bring a gift to the church, all of which is empowerment. LCM and the life of the church is our place. We were heard. Shortly thereafter, Peg came. We have been a part of her work in ministry since then.
Among the wider church connections with which UCC DM interweaves is the Committee on Disabilities, an Education and Leadership Ministry Commission of the National Council of Churches. Starting in 1995 and then in 1996, when I officially took on the UCC DM consultant role, I began to attend those meetings. Among the conversations we have had is about seminaries. The UCC DM Strategic Plan contains a seminary component piece, in part an embodiment of Charles Bamforth's guiding work. He conducted an extensive survey around clergy with disabilities, offering cogent recommendations.
Within the church, we have many great partners with Disabilities Ministries. However, when viewing patterns of how we respond as a church, we see the invisible ceiling. How we tell the story as far as a denomination, the part we would think as important in saying Multiracial, Multicultural, Open and Affirming, and Accessible to All, that is, the A2A piece, is still not central to our story. The challenge to us as this ministry moves forward is to offer the church the way, the tools.
The post-1957, seven-volume set, The Living Theological Heritage of the United Church of Christ, contains the resolution piece that includes words about Virginia Kreyer. It also speaks about Harold Wilke. Our central, 1995 resolution is absent. We have yet to move to that next level of Accessible to All, where it will become so engrained in the culture of the church and what we say and speak about that these three words naturally will be remembered and included in the next historical volume.
When we plan where we go from here, we might consider not only how we think as a church around this issue but also our unfolding story. Think about volume eight. This movement piece can take off. It can begin to penetrate that ceiling. Our church is ready to welcome that challenge as it has welcomed so many other challenges through the years.